Cheats & Secrets
Home
» Golden Sun: The Lost Age
» Cheats & Secrets
Name additional characters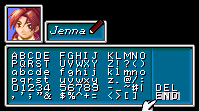 Description

When entering Felix's name, pressing Select three times will allow you to change the names of Jenna, Sheba and Piers in succession. All party characters as well as Isaac, Garet, Ivan and Mia can also be renamed by entering a master code at the same screen: Up, Down, Up, Down, Left, Right, Left, Right, Up, Right, Down, Left, Up, Select.
New Game+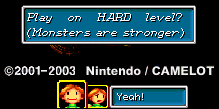 Description

Once you have completed the game, save a clear data file. If you begin a new game, you will have the option of playing on either Easy or Hard difficulties. Easy mode lets you replay the game with your party as it was when you completed it (minus items and djinn), while Hard mode starts a new game from scratch, but with more powerful enemies than normal.
Return to the last Sanctum

Description

Before loading a save file, hold down the L (left shoulder), Start and Select buttons and press A to load the game. Keep them held until the game is fully loaded. Felix will appear inside the last Sanctum visited. This function is disabled during certain key events.
Sound test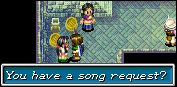 Description

Enter the Battle arena on any file and go to the bottom left corner of the room. Speak to the lady in the green skirt while holding either shoulder button; she will ask if you have a song request. From here you can listen to any music you've ever heard in the game, numbered 0 to 96. Songs 69 onwards are taken from the original Golden Sun, and only appear after a data transfer.
Teleportation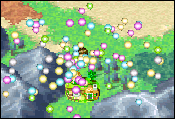 Description

Once you gain access to the Teleport psynergy, in addition to its standard function, you can use it on the world map to instantly warp to any previously visited town, excluding those without Inns. You cannot Teleport to dungeons.
Treasure hunting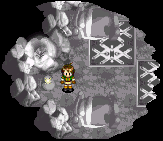 Description

Throughout the game, various items can be found by examining the many pots, crates, stoves etc. scattered across the world. There are literally hundreds of such objects to be found, but hidden items can be easily found by casting Reveal near a cluster of them. Any concealed items will show up as an sparkling gold light.
Treasure hunting (Lemuria)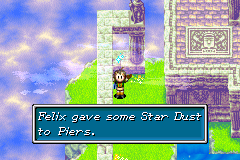 Description

The Scoop psynergy can be used to find a multitude of hidden treasures buried in the soil of Lemuria, among them a Rusty Sword, a Lucky Medal and some Star Dust.